What Are Roll Top Horse Jumps?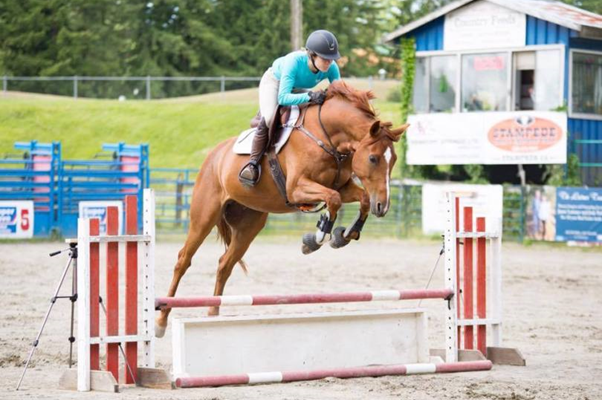 If you're looking at a competitive horse jump course with a wide variety of different types of jumps, you will likely see a roll-top sitting under one or two poles between two medium-height wings. To you, it will likely look like the round half of a barrel or a little hill. The hill-like appearance will likely be due to the artificial turf with which a roll top is most commonly covered.
There are, of course, other versions of roll tops. You might see some that are made of bare wood or a smooth, plastic surface. There can be brick-like decorations, whether real or artificial, along the base of the roll top. A flower bed might also be found at the front of a roll top. There are also custom styles, which can have all kinds of colors and patterns printed on the surface.
Roll top horse jumps usually don't come in the full half barrel shape that you'll see on the course. The jump is usually split into halves of that semi-circular form and these are placed together when a jump is assembled. They are generally located under the bars of a jump, which will generally not be very high. This is because the purpose of a roll top is to challenge a horse to make a wider jump rather than a higher jump. They also add to the eye appeal of a jumping course.
Adding a roll top jump to your collection of obstacles on your practice course may help your horse to jump better over the wider cross-country challenges that it can face when racing. It is a good idea to have it along with many other jumps so that you are better prepared. You can never be sure what competitions will throw at you, and you want your horse ready to meet those challenges.